A NOTE ABOUT OUR DELAYED PRESCHOOL OPENING (dated July 27, 2020):
Our preschool is a family and we want to make the decisions that mean the very best for the well being and safety of our families and staff. At this time, we feel we need more information on the trajectory of COVID19 cases and methods to follow for safety. The Unity Preschool Board unanimously decided to delay the reopening of preschool and will reevaluate this decision in September. I know that this puts us all in a holding pattern and I hope that you can wait with us. Your child's safety and well being are of utmost importance to us.
By now, I had hoped that we would have a handle on this pandemic and be able to re-enter our normal lives. Part of what makes Unity Preschool special is the relationships between the staff, children, and families. If we opened right now, something very wonderful would be lost. Our children need to be able to play and love with abandon. Our staff and 'their' kids need to be able to love on each other. Our families need to be able to share in this unique and precious time in their child's life and development. For right now, that 'preciousness' would be compromised. Please pray with me that our case numbers will go down and we can safely gather together soon to continue the relationship and love that exists here.
Karen Taylor
Director, Unity Preschool
Join Karen Taylor, our Preschool Director, on a virtual tour of our campus and classrooms. **Please note: because of COVID-19 policies and procedures coming from the State of NC, the information given is subject to change before your child arrives.**
At Unity Preschool it is our goal to:
Provide a safe, joyful, Christian environment for preschool children
Teach children about the love of God, both through activities and by mirroring the gentle, insistent love of God
Assist children in learning how to share, welcome, work, and play with others.
We enjoy our many activities through the year, including chapels, Thanksgiving feast, Christmas pageant, Easter parade, and graduation/promotion. Our children spend time in learning, in chapel with Pastor David, in play, and in fellowship with each other, building friendships that move beyond our classroom walls.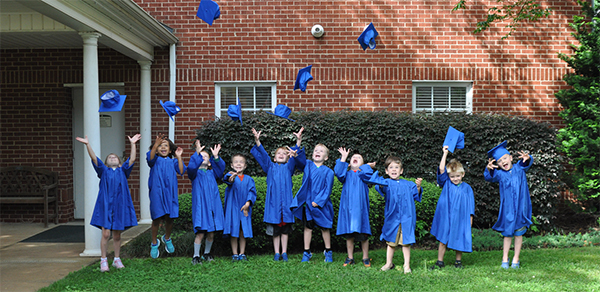 Preschool meets Monday through Thursday from 8:45am – 12:30pm from August to May. We follow the ages of the North Carolina school system, which determines class age by August 31 of the year enrolled.
Four year olds and Transitional Kindergarten meet Monday through Thursday.
Three year olds meet Tuesday through Thursday.
Two year olds meet Monday and Wednesday or Tuesday and Thursday
One year old Mother's Morning Out class meets on Tuesdays.
Registration opens in February for the upcoming school year. Please contact our director, Karen Taylor, at 704-483-5532 or karen@unitypres.org for more information about the preschool including current openings.
Click the topic below to download information:
Rates and Ratios 2020-21
Registration Form 2020-21
Parent Handbook 2019-20
Drop Off and Pick up Policy (updated fall 2018)
PAPERWORK 2020/2021– due by your child's visitation day in August
Preschool Calendar 2020-21
Access the detailed monthly preschool calendar here.
Save
Save
Save
Save
Save