During the COVID-19 pandemic, we have followed the direction of the governor of NC and have closed our classrooms. However, the teaching continues in creative ways as teachers work to get critical skills and learning to our students. Enjoy some of the videos below by our teachers as they share their ideas with you.
At Unity Preschool it is our goal to:
Provide a safe, joyful, Christian environment for preschool children
Teach children about the love of God, both through activities and by mirroring the gentle, insistent love of God
Assist children in learning how to share, welcome, work, and play with others.
We enjoy our many activities through the year, including chapels, Thanksgiving feast, Christmas pageant, Easter parade, and graduation/promotion. Our children spend time in learning, in chapel with Pastor David, in play, and in fellowship with each other, building friendships that move beyond our classroom walls.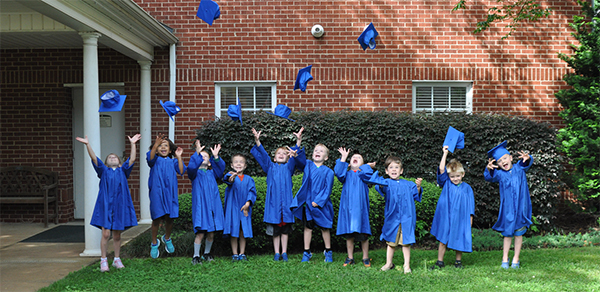 Preschool meets Monday through Thursday from 8:45am – 12:30pm from August to May. We follow the ages of the North Carolina school system, which determines class age by August 31 of the year enrolled.
Four year olds and Transitional Kindergarten meet Monday through Thursday.
Three year olds meet Tuesday through Thursday.
Two year olds meet Monday and Wednesday or Tuesday and Thursday
One year old Mother's Morning Out class meets on Tuesdays.
Registration opens in February for the upcoming school year. Please contact our director, Karen Taylor, at 704-483-5532 or karen@unitypres.org for more information about the preschool including current openings.
Click the topic below to download information:
Rates and Ratios 2020-21
Registration Form 2020-21
Parent Handbook 2019-20
Drop Off and Pick up Policy (updated fall 2018)
PAPERWORK 2020/2021– due by your child's visitation day in August
Access the preschool calendar here.
Save
Save
Save
Save
Save