"Therefore welcome one another as Christ has welcomed you, for the glory of God." Romans 15:7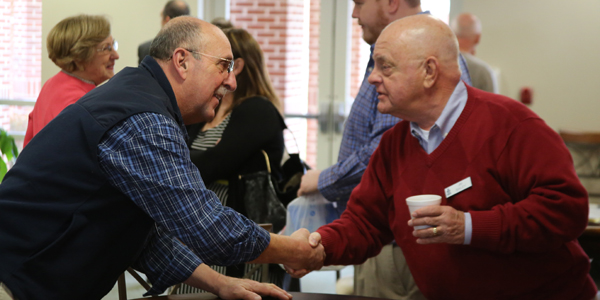 Welcome! We are glad you are here! We are fairly casual, so come on in. You'll see people in dresses and suits, but most will be wearing slacks and blouses and polo shirts. So we are sure you'll fit in just fine.
We'd love to drop you a note, so let us know who you are.
We suggest stopping by our Welcome Center on Sunday mornings. These lovely people are just waiting to meet you and answer any questions you may have. They also have a small gift for you, and for your children, too!
If you have children, you may want to check them in at the computer stations in the corner of the gathering area. This will allow us to know who they are (especially if they are going to Sunday school) and also let us know that the right person is picking them up! You can talk with our children's director, Bailey Beam, if you have any questions or want a tour.
Then, get to know us a little. Grab a coffee or latte and strike up a conversation.
If you want to know a little more about us ahead of time, here are the highlights:
Unity is a church in the Presbyterian Church (USA) denomination. We believe that we are saved by grace and that Jesus Christ reveals God's purpose for us. Presbyterians believe that it is everyone's job to share this Good News with the whole world.
Unity is governed by a Session made up of women and men elected by the congregation as elders in the church. This body takes on the task of directing the church through all its various ministries.
Our campus is large and directional signs point between the buildings to guide you to the space you are looking for. Our sanctuary is the largest building on campus and was built in 2005 to house our growing congregation, now at almost 600 members. Click here for directions to the church.
We offer a nursery during both services with pagers provided to parents in the event they might be needed. There is also a quiet room at the rear of the sanctuary if you feel the need to leave the sanctuary but still participate in worship.
We offer live streaming of our 9:30 and 11:00am services each week and also archive these videos for you to see at a later time.
Wherever you are on your faith journey, we are happy to welcome you. For information on becoming a member, click here.
Save
Save
Save
Save
Save
Save